Original Paper

Open Access
SEM application to the household travel survey on weekends versus weekdays: the case of Seoul, South Korea
European Transport Research Review
An Open Access Journal
2018
10:11
Received: 6 June 2017
Accepted: 10 January 2018
Published: 17 January 2018
Abstract
Purpose
This study analyzes the relationship that land use has with weekend travel in comparison to weekday travel. Unlike previous studies, it uses the same sample for two models that are specified to test the relationship separately for weekday and weekend travel.
Methods
Structural equation modeling is employed to test the land use–travel relationship. A comparison is made using two mode-specific travel measures: trip frequency and travel time.
Results
On weekday travel, land use in Seoul tends to reduce automobile trips and to add transit and nonmotorized trips. This does not lead to a reduction in the total frequency of weekday trips. Instead, an overall reduction occurs in the frequency of weekend trips because the addition of transit and nonmotorized trips is less than the reduction of automobile trips.
Conclusions
The application of structural equation modeling to a Seoul household travel survey confirms the opposing role of land use in travel mode choices on weekdays versus weekends.
Keywords
Land use
Weekend travel
Trip frequency
Travel time
Structural equation modeling
1 Introduction
Transportation studies have traditionally dealt with weekday travel [1]; relatively few studies on weekend travel have been conducted [2, 3]. However, weekend travel differs markedly from weekday travel in the ranges of destinations and distances as well as the main purposes of travel, modes of transportation, and distributions of peak time [2]. From the late 2000s, studies began to analyze weekend travel and weekday–weekend differences in order to fill this gap [e.g., 4]. However, few studies looked at how weekend travel is related with land use variations, though they have been called for [5, 6]. This topic is increasingly important because urban residents have exhibited a greater tendency to embark on weekend travel in recent years [7, 8], for which trip destinations and lengths vary widely and its purposes tend to be nonmandatory or discretionary (e.g., leisure and social) [6]. Thus, the land use effect on this travel is likely to differ from that on weekday travel [9]. Specifically, land use and transportation planners may be able to intervene if it is found that weekend travel would be responsive to land use interventions [10]. Earlier studies argued that the land use effect is moderate at best [11–14], but these were based mostly on analyses of weekday travel. Also, insomuch as the effect is geographically limited to a local area [15], planners can identify where to intervene considering differences in destinations between nonmandatory weekend travel and mandatory weekday travel [16].
This study analyzes the land use–travel relationship on weekends and examines how it differs from the relationship on weekdays, using a case of Seoul, South Korea. As recommended by previous studies [17, 18], structural equation modeling (SEM) is used to analyze the relationship. Through SEM, the effects of various land use variables are combined to reduce their correlation [e.g., 19]. The correlation between land use independent variables—for example, dense neighborhoods usually have extensive road networks and many transit facilities—is called spatial multicollinearity and requires classical statistical methods such as regression analysis to modify (drop or combine) the variables [10]. This makes it difficult to isolate important land use characteristics [20]; it is a major topic for transportation planners and researchers [11, 21]. As shown in the above example, spatial multicollinearity occurs in the examination of both weekday and weekend travel. Despite the collinearity issue, SEM can analyze all land use variables without modification. Furthermore, it allows for multiple relationships in a single model [17]; in this study, land use–travel and sociodemographics–travel relationships are explored.
To deal with spatial collinearity, SEM does not have to transform the original variable set, as it presents the overall effect of a factor through its measurement model, particularly with reflective, as opposed to formative, measurements. In the reflective measurement model, a factor consists of indicator variables that disclose or reflect the abstract/latent meaning of the factor. (By contrast, in the case of formative measurement, how indicators are structured entirely determines or forms the meaning of a factor. For differences between reflective and formative measurement systems, see Gim [22].) The indicators share the meaning, and the factor is well represented by about three to five of the indicators [23]. In the same sense, the meaning of the factor (content validity) stays intact even if some of the indicators are removed [24]. (In the formative measurement model, however, the addition/removal of an indicator changes the meaning.) Therefore, this study analyzes a few land use indicators and investigates how land use as a whole affects travel behavior [19].
This study attempts to analyze the sociodemographics–travel relationship as a reference for the land use–travel relationship for both weekdays and weekends. Travel modes are categorized three ways: automobile, public transit, and nonmotorized modes such as walk and bike. Then, two travel measures are used: trip frequency and (as a composite measure) total travel time. Recognizing a weakness of previous studies that typically used a single measure such as mode choice, unit trip length/time, or total travel distance/time [25], this study uses multiple measures due to Ewing and Cervero's findings [12] that the magnitude of the land use–travel relationship is large when total travel distance (a composite measure) is analyzed, but smaller for analysis of mode choice and smaller still for trip frequency analysis. Thus, this study evaluates variations in total travel time, mode choice, and trip frequency by mode.1 (Total travel distance is not analyzed due to low data precision.)
The rest of this study is organized as follows. First, it reviews the literature on the land use–weekend travel relationship by categorizing previous studies according to the type of data collected (whether they collected data on weekdays as well as on weekends) and how they considered weekday–weekend differences. Then, it presents research variables and the measurement of the variables with public GIS and travel survey data. The following analysis section provides the results of the weekday and weekend SEM models in terms of factor-to-indicator relationships (findings of the measurement model) and factor-to-factor relationships (findings of the structural model). The study concludes with a summary and interpretation of the findings and recommendations for future research.
2 Literature review
Since the mid-1990s, descriptive research has examined the relationship between land use and travel on weekends as well as on weekdays. For example, Rutherford et al. [
26
] selected a few neighborhoods in different land use settings and presented their differences using descriptive statistics of such measures as trip length and total travel distance. From the early 2000s, studies began analyzing the land use–weekend travel relationship using inferential statistics. As shown in Table
1
, the studies can be categorized into three types, according to how they treated weekday and weekend travel data.
Table 1
Studies on weekday–weekend travel
Methods (characteristics)

Authors (years)

Conclusions

A single model without a weekday–weekend difference dummy (analytical findings in relation to the significance of the land use effect can be applied both to weekday and weekend travel)

Troped et al. (2010) [27]

Density, land use balance, and street intersection density increase physical activity.

Forsyth et al. (2007) [28]

Housing density is positively associated with walking and physical activity.

Gim (2011) [9]

Compact land use facilitates automobile alternative travel.

A single model with a weekday–weekend difference dummy (it was tested and confirmed that the difference dummy has a significant effect on travel behavior)

Cervero and Duncan (2003) [29]

The weekend dummy positively affects walking and biking; land use diversity and design increase them.

Ogilvie et al. (2008) [30]

The weekend dummy works negatively on active travel and positively on physical activities; land use has a limited effect on them.

Two separate weekday and weekend models (it was found that different land use variables may be significant in the weekday and weekend models)

Lee et al. (2009) [4]

Residential density and rail proximity reduce the total travel time on weekdays, but not on weekends.

Lin and Yu (2011) [31]

Residential land use affects children's leisure travel both on weekdays and weekends.

Witten et al. (2012) [32]

Neighborhood land use increases leisure-purpose physical activities on weekdays and weekends.
The first type of studies analyzed data that were collected both on weekdays and weekends, but they did not consider weekday–weekend differences in their research model. In order to analyze the land use effect on physical activity, Troped et al. [27] asked research participants to continuously wear a GPS device (accelerometer) for four days or more, including two weekend days. They reported that if ethnicity and educational attainment are controlled for in their linear regression model, density, land use balance, and street intersection density are positively associated with physical activity. In Twin Cities, Minnesota, Forsyth et al. [28] analyzed the effect of residential density on walking (type and amount) and physical activity, each of which was measured with a travel diary and an accelerometer for a week. Using a t-test, they found that housing density is weakly associated with walking and physical activity. Considering that the typical one- or two-day travel diary fails to capture variations in weekend travel and non-regular leisure travel, Gim [33] employed data from a public survey that asked respondents to keep a travel diary for a month. In an SEM model that considered attitudes toward compact land use and different travel modes in addition to sociodemographic variables, land use turned out to significantly influence trip frequency variations. Notably, those studies that used the single model approach looked at weekday and weekend travel at the same time—an improvement from previous weekday-only studies—but, they could not check if these types of travel differed (a strength of the following second group of studies).
Second, several studies considered the weekday–weekend difference by including it as a dummy variable in research models. For example, Cervero and Duncan [29] analyzed the data of the 2000 Bay Area Travel Survey. Different from Bhat and Gossen [2] and Bhat and Srinivasan [34] who analyzed the same data, they used the longitudinal data of the same respondents for both days for which data were available, rather than just one weekend day. Their binomial logistic regression models treated whether a trip was made on the weekday or the weekend as a travel characteristic variable along with four other binary variables relating to travel purposes. In addition to the trip characteristics, sociodemographics—gender, race, and numbers of vehicles and bikes owned—were controlled for. Two mode-specific models found that walking and biking are more likely to occur on weekends and that the factors of land use diversity and design have modest effects on walking and biking. The sociodemographic control variables had far greater effects, and the researchers argued that designing the built environment in line with the sociodemographic composition of a neighborhood could increase physical activity levels through the process of residential self-selection. Similarly, using survey data that were collected from the same respondents for multiple days in impoverished neighborhoods in Glasgow, Scotland, Ogilvie et al. [30] analyzed how active travel and physical activities are associated with individual and environmental variables while controlling for the day of the week (weekday/weekend dummy). In their multinomial logistic regression model in which age, body mass index, housing tenure, distance to work/school, bike access, automobile access, and difficulty walking were controlled for, weekday time was shown to increase the chance of active travel. Physical activities, however, were more likely to be on the weekend. Land use characteristics turned out to have a limited effect on physical activity and active travel. All in all, studies of this type found that the binary variable of the weekday–weekend difference has a significant effect on travel behavior. They did not, however, explain which characteristics that diverge between weekdays and weekends bring about travel variations.
Thirdly, a few studies analyzed the effect of land use on weekday and weekend travel in respective weekday and weekend models; these studies provide a basis for this study. Lee et al. [4] analyzed household travel data from the SMARTRAQ (Strategies for Metropolitan Atlanta's Regional Transportation and Air Quality) survey to check the effect land use might have on total travel time. The effect was estimated in two Tobit models, one for weekday and the other for weekend travel. The researchers controlled for household and individual sociodemographics (children, household size, automobiles, age, gender, and job type). The two models delivered different results: The reduction in total travel time was affected by land use (particularly, residential density and rail proximity) on weekdays, but not on weekends. [Unlike other studies that used weekday–weekend separate models (to be shown below), Lee et al. [4] evaluated travel time in total, not travel time during leisure time only, as with this particular study.] Compared to their study, first, this study does not exclude collinear variables, but keeps all of them; they are loaded onto the land use factor through the measurement model of SEM. Second, in addition to total travel time, this study analyzes variations in trip frequency and further, both of the travel time and trip frequency measures are examined for three modes of travel. Finally, while Lee et al. [4] used a dataset from a pseudo panel (i.e., different sets of individuals were used for the weekday and weekend travel models), this study employs the same sample of respondents to test the weekday and weekend models; if two different samples are analyzed, one can hardly separate variations due to the weekday–weekend difference from the total variations (= weekday–weekend variations + between-sample variations).
By collecting multi-day data from the same elementary school students enrolled in three institutions in Taipei, Taiwan, Lin and Yu [31] investigated how land use in residential areas affects children's leisure travel. Negative binomial regression and multinomial logistic regression were employed to evaluate the students' weekday and weekend travel. The weekday and weekend models both controlled for neighborhood safety (satisfaction level and number of crimes), trust in neighbors, income, automobile/motorcycle/bike ownership, number of children, flexible work type, gender, and school grade. In contrast to Lin and Yu's study, this study concentrates not on the individual effects of land use variables, but on the overall land use effect in order to present its magnitude, not just the statistical significance and direction (+/−). Lastly, Witten et al. [32] analyzed how land use influences physical activities for leisure (not for travel) in 48 New Zealand neighborhoods. To measure such physical activities, they conducted a survey in which perceived travel time, leisure time, and walking time were answered. As an objective supplement, respondents were also asked to wear an accelerometer for seven consecutive days. The objective accelerometer counts were analyzed separately in weekday and weekend multiple linear regression models in which the authors controlled for age, ethnicity, gender, education, marriage, income, employment, automobile access, and preference for walkable neighborhoods. However, the study focused on differences between perceived/responded physical activities and objectively measured ones, not those between weekday and weekend activities (indeed, their correlation was moderately high and weekday and weekend activities were considered equivalent).
In summary, inferential analyses of multiple-day travel data can be divided into three types of modeling approaches: (1) a single model without a weekday–weekend difference dummy, (2) a model with such a dummy, and (3) separate weekday and weekend models. In contrast to weekday- or weekend-only studies, analytical results of the first type of studies may represent both weekday and weekend travel, but they cannot show whether the travel differs between weekdays and weekends. The second type of studies tests the significance of the weekday–weekend difference, but they cannot determine what brings about such a difference, if the difference is significant; this can only be disclosed by the third type of studies. This study is also classified into the third type, but differs from the previous literature in that it does not exclude initially considered land use variables due to spatial multicollinearity (accordingly, it is capable of examining the magnitude of the land use effect as a whole), analyzes multiple travel measures (trip frequencies and travel time) by travel mode, and uses data from the same sample of respondents for its weekday and weekend travel models that account for an individual's different travel purposes, not limited to leisure travel.2
Lastly, while this study reviewed the few studies that analyzed both weekday and weekend travel, the studies—as well as studies only on weekend travel [e.g., 2, 34, 35]—did not adopt SEM, despite the fact that it has been consistently recommended for analyses of the complex land use–travel relationship [17, 18] and indeed, it is often employed in weekday travel studies [e.g., 19, 36–38]. All of the above studies used linear and/or logistic regression, except in two cases: Forsyth et al. [28] used a t-test and Lee et al. [4] used Tobit models. That is, this study is among the first that employed SEM to compare weekday and weekend travel.
3 Data
The study area of this study is Seoul (known officially as Seoul Special City), the capital of South Korea, where individuals' travel and sociodemographic data were obtained from the 2006 Capital Region Household Travel Survey (CRHTS). The survey was conducted in Seoul and its surrounding areas, Incheon Metropolitan City and Gyeonggi Province.
The 2006 CRHTS is an extension of the 1996 Seoul Transportation Census and the 2001 Seoul Household Travel Survey, both of which were carried out only in Seoul. As stipulated by the National Transport System Efficiency Promotion Act, the survey is conducted every five years, and it has been extensively used in previous studies on the land use–travel relationship [e.g., 39–44]. However, none of them used the data of its supplementary weekend survey partially because they have not been publicly available, unlike the data of the main weekday survey.
The supplementary weekend survey was not conducted by the CRHTS until 2006. Thus, the 2006 CRHTS was the first to include not only the main weekday survey (it asked respondents to keep a travel diary on the last Thursday of October or the first Thursday of November 2006), but also a weekend survey (on the following Saturday and Sunday). Notably, the CRHTS did not comprise a sample from the whole year. Rather, it examined one-day trips for the weekday main survey and two-day trips for the weekend supplementary survey; this may limit the generalizibility of the findings of this study.
The CRHTS had a form of a self-administered (pen-and-pencil) survey—questionnaires were hand delivered and retrieved by block group heads—but as an additional measure, interviews were also conducted by phone and personal visit. Accordingly, both the weekday and weekend surveys achieved very high response rates: 94.1% (= 95,698 returned responses) and 100% (= 5102), respectively.3
Unlike the 2011 and 2016 National Household Travel Surveys, the 2006 CRHTS assigned the same format of the IDs to the two weekday and weekend samples, so this study was capable of extracting the respondents who answered both of the weekday and weekend surveys. As such, by using the same sample for its weekday and weekend models, this study can directly compare their analytical results. From the combined sample, it excluded one case whose gender was missing and came up with a final sample of 1960 Seoul residents. Figure
1
shows how the sample is distributed on the neighborhood scale.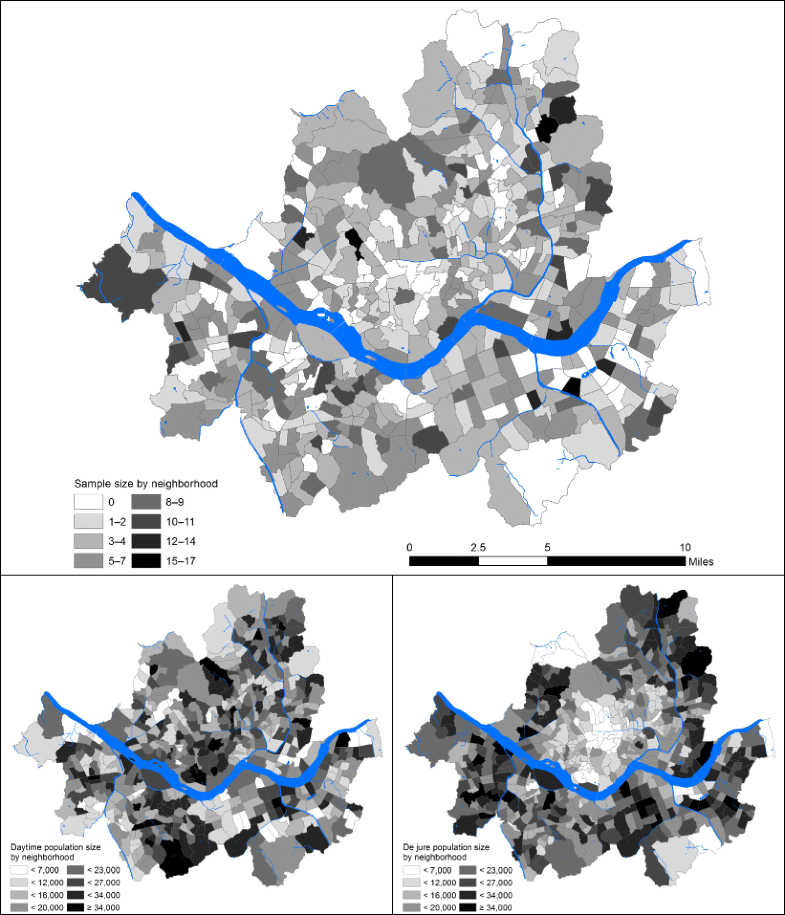 Based on the data of the 2006 CRHTS, this study analyzed home-origin trips through four mode-specific models [= (weekday + weekend) * (trip frequency + travel time)]. The data were also used to evaluate mode choice-related sociodemographics with the following five indicators: female (yes/no), year of birth, household size, number of children, and number of automobiles.4 [Compared to the total number of automobiles, as a standardized measure, the number of automobiles per driving license in a household can better account for car competition in the household. This study did not consider this particular variable, however, because the license variable had a considerable number of nonresponses: 478 cases (24.5%) out of a total of 1960. Income and job type variables were not analyzed for the same reason.]
This study measured home-neighborhood land use with six variables: (1) population density 1 (daytime) [daytime population = de jure (nighttime) population ± variations by commuters], population density 2 (de jure), bus stop density in the 0.5-mile skyline buffered area of the neighborhood, metro station density within the 0.5-mile buffer, street intersection density within the buffer, and land use entropy as evaluated in the buffered area: (−1) * [(s_1 / S) * ln(s_1 / S) + (s_2 / S) * ln(s_2 / S) + (s_3 / S) * ln(s_3 / S) + (s_4 / S) * ln(s_4 / S)] / ln(4), where s_x = the area of land use x (four in total: residential, business, commercial, and recreational) and S = the entire area of the four land uses.
Land use variables were all calculated using public GIS/GPS data (particularly, bus stop locations were identified using GPS coordinate data). Population densities were calculated with numerical population data from the Ministry of the Interior. To identify bus stop locations, this study downloaded GPS coordinate data from Bus Management System and to count metro stations, it obtained GIS polygon data from the New Address System. Street intersection points were created by processing street polyline data from the Highway Management System. Lastly, to identify neighborhood land uses, this study used GIS polygon data maintained by the Seoul Institute.
5 Conclusions
Only a few studies examined the land use effect on weekend travel in comparison with the effect on weekday travel, and none of those analyzed the same sample. As such, it is not clear whether differences in analytical results were led by variations in the days of travel or in the samples. This study fills this gap by using the same sample for its SEM models. The models were constructed for weekday and weekend travel, each of which was again separated to measure both trip frequency and travel time.
Among variables that reflect the factor of mode choice-related sociodemographics, the two weekend travel models (trip frequency and travel time models) found that automobile ownership greatly increases automobile travel, suggesting that the findings of weekday travel studies are applicable to weekend travel. Overall, the sociodemographic factor exerted a stronger effect on travel time than on trip frequency for both weekday and weekend travel. This implies that if sociodemographics become favorable to automobile travel, people are more likely to drive to more distant destinations—which leads to longer overall trip time—rather than visiting the same destinations more frequently.
In all models, indicator variables that reflect land use were found to be consistent in their relative magnitudes. Street intersection density was the most important, which supports the weekday findings of previous studies and extends it to weekend travel. Secondly, this study separated population density into daytime and nighttime densities and transit availability into bus and metro facility densities. It then found that the relative importance is determined by how well the land use measure represents temporal and spatial ranges in which trips take place. That is, one of the reasons daytime population density and bus stop density were more important is that daytime population reflects traffic peak hours, when trips are concentrated, and bus service covers both intra- and inter-neighborhood destinations [72].
Among the three modes of travel, land use in Seoul discouraged automobile travel, specifically automobile travel time on weekdays and automobile trip frequency on weekends. Instead, it facilitated transit and nonmotorized travel. In terms of the overall land use effect on weekday travel, it was significant on travel time rather than on trip frequency; this echoes the findings of the previous literature. In the weekend travel models, however, the opposite result was found: The land use effect was not significant on travel time, but on trip frequency. On weekdays, when most trips are compulsory (e.g., commuting and business), people in compact neighborhoods cannot easily change trip frequency. Instead, they are likely to shift to alternatives to the automobile, implying increases in travel time. On weekends, however, they may reduce the number of trips, most of which have discretionary purposes (e.g., social and leisure activities). Specifically, they would embark on a reduced number of trips by automobile, but the reduction is unlikely to be fully compensated for by the addition of transit and nonmotorized trips.
The findings of this research suggest that land use policies should be analyzed considering different travel measures holistically, as recommended by van Acker and Witlox [25]. For example, a reduction in travel time can be achieved either by increasing the share of automobile travel (which is faster) or by reducing the overall trip length, which subsequently reduces the overall trip time. Thus, as policy implications for planning practitioners, first, it is advised to consider that compact city strategies have different effects on weekdays and weekends. Specifically, the strategies would lead to a reduced number of trips on weekends, but on weekdays, they may result in the extended travel time. Notably, the extension is not attributed to traffic congestion but to the use of automobile alternatives that have inferior mechanical characteristics (e.g., slower speed, frequent stops, and fixed—often not the shortest—routes) [73–75]. Planners then may intend to improve alternative modes of travel in order to make them more competitive in terms of speed, timeliness, and convenience [76]. Regarding land use variables, in order to reduce automobile trips on weekends, planners can first aim to increase street intersection density, as this feature is the best reflection of the compact city concept (this finding has also been reported in a study conducted in Boston and Hong Kong [61]). The intersection density increase may be done by revising subdivision and street design regulations to reduce the number and length of dead-end streets and the size/length of blocks [77]. Secondly, bus stop density turned out to be more important than metro station density. Thus, it is recommended to facilitate bus services for the purpose of increasing transit ridership and reducing automobile travel. An attractive option is to improve the level of service of connector buses to metro stations, since 89.2% of transit riders in Seoul transfer between bus and metro [8]. Lastly, while compact city strategies are often summarized with density measures [28, 78], daytime/activity density (e.g., employment density) may be a better reference for zoning and building codes than nighttime/permanent density (e.g., residential density) in revising minimum and maximum building heights and densities. Other measures for higher activity density include the introduction of density bonuses—in return for the ability to build lucrative higher density developments, developers are required to provide neighborhood amenities such as parks, plazas, retail space, and public places—and revisions to building requirements on floor area ratio, minimum lot size and setback, and expansion by room/floor additions.
This study had several limitations. First, due to data limitations, people's individual characteristics were evaluated only with sociodemographic variables, though previous studies [18, 21] have repeatedly showed attitudinal variables to be important. In relation to residential self-selection, if people choose to live in a neighborhood according to their attitudes toward its land use, then a travel behavior model would lead to an overestimation of the effects of land use variables. If the confounding effects of the attitudinal variables are not controlled for in the model, the land use–travel relationship becomes spurious. The magnitude of the self-selection effect has been discussed in several reviews of the literature [9, 10, 79, 80].
Second, to explain its empirical results, this study relied on the concept of flexibility or as developed by Goulias and Kitamura [16], the typology of compulsory and discretionary travel (or mandatory and nonmandatory travel). Specifically, weekday travel, which is mostly compulsory (e.g., commute), has less flexibility in changing the number of trips according to land use variations. In contrast, weekend travel is often discretionary (e.g., leisure). Accordingly, the frequency of weekend trips can be more flexibly modified. Thus, if data on travel purposes are fully available,5 studies are recommended to compare purpose-specific models for both weekday and weekend travel to allow for more detailed analysis of the land use–travel relationship. Lastly, this study could not examine possibly important variables such as subjective/perceived land use characteristics [81]. Subjective land use variables have been reported to be significant travel determinants whose magnitude is similar to or larger than their objective counterparts [46, 64]. Thus, it is desirable to include both objective and subjective land use variables in analytical models.
Footnotes
1
For a more precise analysis, unit trip time can be examined instead of total travel time. However, because the unit of analysis for this study is the individual, not the trip, an analysis of trip time—often in the form of the mean trip time of the individual—is likely to lower the accuracy of the analysis.
2
Except Gim [33] and Witten et al. [32] whose analytical models included neighborhood and/or travel mode preference variables, no other studies on weekday and weekend travel, including this one, did not duly control for residential self-selection by considering attitudinal variables and/or analytical methods that can deal with this issue, including sample selection model or propensity score matching. Thus, as suggested by previous weekday and weekend travel studies like Forsyth et al. [28], Cervero and Duncan [29], and Lee et al. [4], further study is required to address the self-selection issue.
3
The CRTHS selected 5331 block groups among a total of 13,832 in Seoul and from these sampled block groups, 102,000 households were recruited for the weekday survey (out of a total of 3,309,890 in Seoul) and 5102 for the weekend survey. For further details of the survey process, see Gim [39].
4
As reviewed by Van Acker and Witlox [25], previous studies regarded automobile ownership either as a sociodemographic determinant of travel behavior—as with this study—or as a travel behavior outcome that is caused by land use and sociodemographic characteristics. Accordingly, they modeled automobile ownership as an intermediary as follows: land use and sociodemographics --- > automobiles --- > travel patterns. The model was found to account for larger variations in travel patterns and was used in their later studies [25, 46] and elsewhere [36, 47]. However, this study put automobile ownership as a sociodemographic indicator in order to be consistent with earlier and very recent Korean studies [48–52]. Further study is needed to test the significance of automobile ownership as an intermediary in Korean and other Asian settings. Such a study would be expected to find a larger effect of land use than this particular study because, as postulated by Van Acker and Witlox [25], compact developments lessen automobile travel not only directly, but also indirectly by discouraging automobile ownership. In support of this expectation, Næss [53] also observed such a larger land use effect by assuming that compact land use reduces automobile ownership.
5
The data of the supplementary weekend survey had a considerable number of missing values for the travel purpose variable. Indeed, unlike its predecessors, the 2006 CRHTS conducted the supplementary survey, but the questionnaire had a shorter list of questions that were in a less detailed format than that of the main weekday survey.
Declarations
Acknowledgements
The paper benefited greatly from technical supports by graduate students in Seoul National University Integrated Planning Lab, particularly by Ryan Dash and Su Kim, and from constructive comments by the associate editor and the two anonymous reviewers.
Open Access This article is distributed under the terms of the Creative Commons Attribution 4.0 International License (http://creativecommons.org/licenses/by/4.0/), which permits unrestricted use, distribution, and reproduction in any medium, provided you give appropriate credit to the original author(s) and the source, provide a link to the Creative Commons license, and indicate if changes were made.
Authors' Affiliations
(1)
Graduate School of Environmental Studies and Interdisciplinary Program in Landscape Architecture, Seoul National University, Seoul, South Korea
(2)
Environmental Planning Institute, Seoul National University, Seoul, South Korea